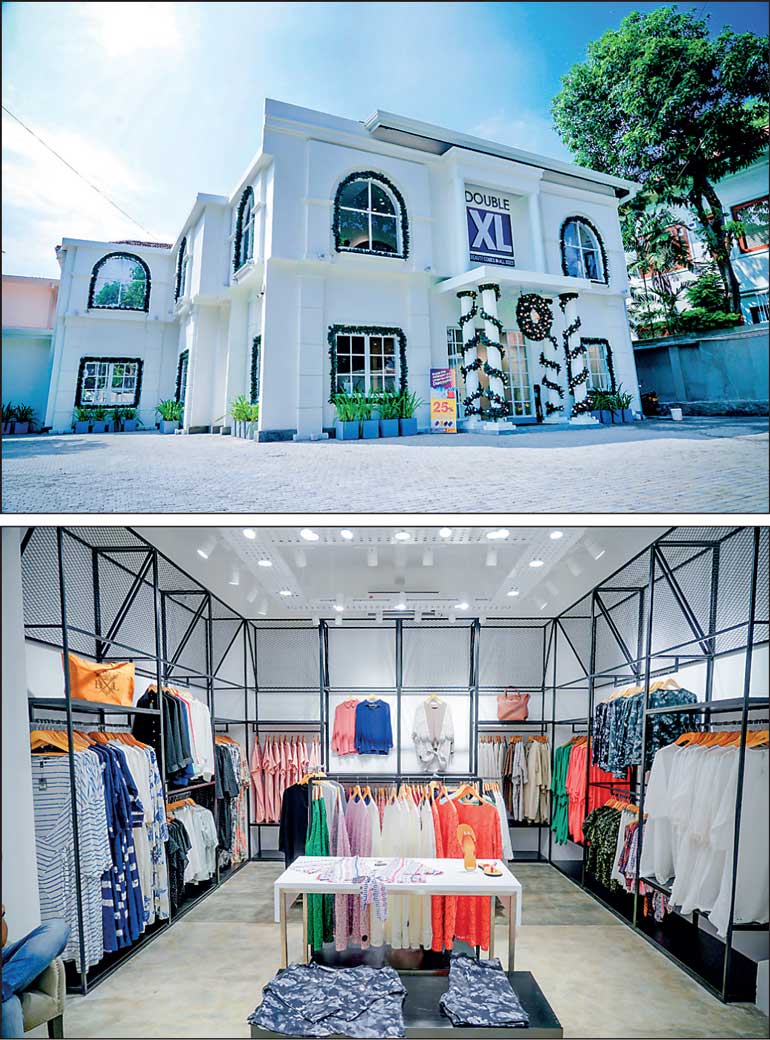 ---
Double XL recently moved its premises to No. 106, Reid Avenue, Thummula Junction, Colombo 4, to provide customers with an enhanced shopping experience with increased retail space. The new location offers twice as much shopping space and four times as much parking as the previous one, allowing it to showcase a wider range of items to even more visitors.
Established in 2010, Double XL is Sri Lanka's first plus size clothing store.
Double XL Founder and Director, Adhisha Dahanayaka, along with Directors Priyan Senerath and Deminthe Dahanayake and the Double XL team, oversee the entire process from fabric sourcing to final design on the rack . They're aiming for a line of clothing that's aesthetically pleasing, comfortable, and fashion-forward, while throwing out the window any outdated rules about what plus-size people should and shouldn't wear. There are mini dresses, crop tops, bodycon dresses, bold prints, jeans and more, making it easier than ever to fill your wardrobe with chic, quality pieces.
The store's design picks up on the original details and quirky layout of the space, proving how Double XL truly understands the wants and needs of its customers. Armed with a desire to prevent plus-size people from experiencing the fashion frustrations they have long suffered from, the brand is filling the void in the plus-size clothing market.
The brand also launched its new DXL Teen and DXL Active ranges, after two years of research and development by the team. Designed based on feedback from plus-size teens and their parents, the new DXL Teen line aims to tastefully cater to their preferences, while ensuring designs remain affordable.
Adhisha further explained, "We noticed teenagers coming to our store and picking out cute and fun outfits, when they would have specific preferences, like opting for jeans instead of a linen dress. Understanding these preferences, we created the teen collection to be colorful and fun, while making it affordable.
Buyers will find the two-story building has been tastefully utilized, with a stylish and comfortable interior that fills the extra space with an artistic vibe. The ground floor contains the women's clothing options as well as the accessories, while the first floor displays the men's clothing, the sportswear range and the teen clothing.
Additionally, for the first time in Sri Lanka, Double XL has introduced a range of activewear for tall people under its premium DXL Exclusive brand. The athletic and sportswear line includes tennis skirts, shorts and t-shirts for squash and badminton, activewear, jackets and more. Produced in limited series and made from innovative high quality textiles, Adhisha draws inspiration from a deeply personal place and real human stories to meet the needs of its customers. Double XL curates capsule collections of minimalist wardrobe essentials made from premium fabrics, and their approach ensures that comfort goes beyond the basics. "I would like to thank all my loyal customers and my team, without whom we would not have reached what we are today. Not to mention my international and local fabric suppliers, despite the pandemic. They have always managed to deliver on time," added Adhisha.
Their latest collections feature a wide range of colorful outfits and fun prints that are quite different from their usual styles. Expanding to accommodate everyone, they seek to offer a versatile range that strives to include something for everyone.